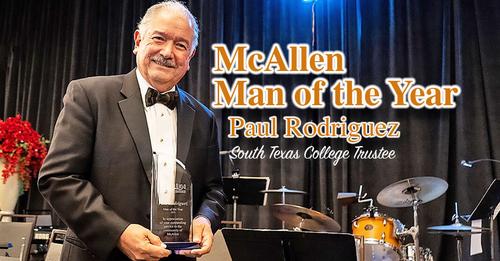 Mr Paul Rodriguez was honored today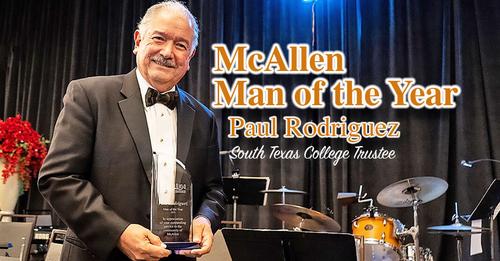 Wow

Test citation.
It is Rodriguez's work and volunteerism that have earned him the title of Man of the Year, in what's become a tradition in the McAllen community since 1995.
McAllen Chamber President and Chief Executive Officer Josh Mejia said annually a selection committee, comprised of a variety of stakeholders from the public and private sector select the Man and Woman of the Year.
To be considered for the honor, the recipient must have been nominated by someone in his/her community.
"To be considered by the selection committee, you have to embody the character, experience and background of an individual unconditionally committed to the betterment of the city of McAllen," said Mejia. "We are proud to announce Mr. Paul Rodriguez, alongside Sony Rego, as the newest members of this exclusive list of extraordinary people who keep McAllen, Texas at the center of all they do."
As a trustee of STC, Rodriguez serves as a member of the Education and Workforce Development Committee and the Finance, Audit and Human Resources Committee.
In addition to his position on the board, he is also Chairman of Municipal Utility District No. 1 and board member of Affordable Homes of South Texas.
In addition, Rodriguez's community service expands into various roles dedicated to the Mission Economic Development Authority, Mission Regional Medical Center, Texas Department of Housing and Community Affairs, Sharyland Independent School District, Juan Diego Regional Catholic High School and Valley Alliance of Mentors for Opportunities and Scholarships.
"It is a privilege serving my community and an honor to be recognized for it," said Rodriguez. "My goal is to always serve STC, a catalyst for economic development in the Valley and for creating a college-going culture in our region; the constituents who have entrusted me with this responsibility and the community in which I live. All of this is surreal, and I thank my family, friends and supporters."
STC President Ricardo J. Solis said it makes him proud having someone of integrity and dedication like Rodriguez on the STC Board of Trustees serving the college and its students.
"We are so proud of him, his service and all he has accomplished," said Solis. "He is so deserving of this honor…he has been our 'Man of the Year' every year since 2012 and we're glad that the city of McAllen sees that as well. Congratulations to him from everyone at STC."